Our guided Landgarten-Tour
EXPERIENCE ORGANIC LOCALLY
Since 1989 Landgarten is a pioneer in the manufacturing of innovative organic soy snacks and carries an assortment of over 80 unique snack variations today. With the idea of bringing the previously unknown soybean to Austria, roast it and use it as a snack-alternative to greasy peanuts, the first stone was laid over 30 years ago. Today up to 350 tons of soy are produced sustainably and climate-neutral on two sites in Bruck an der Leitha using a worldwide one-of-a-kind and patented hot air roasting method without adding any oil.
During a guided tour with a snack expert through our manufactory you can witness the path of the soybean with all senses. Here our visitors learn fascinating facts about the nutritious food and can watch how produce turns into finished products. At two production sites you can witness how the valuable legumes are prepared, roasted and enriched together with seeds and berries.
Insight into the production

Groups up to 40 people
duration about 2 hours

2 sites
snack tasting

create your own mix
For groups with less than 15 people we charge a fixed amout of € 150,-.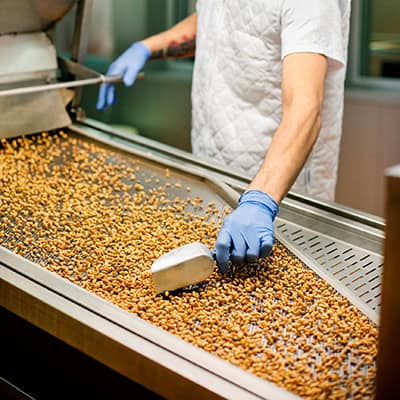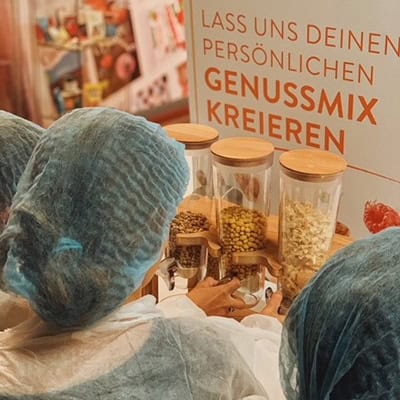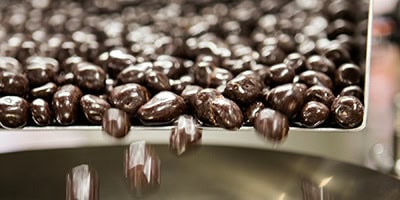 How long does the guided tour take?
Guided tours generally take about two hours.
Are guided tours for one person available?
Once a month we offer collective dates, where you can sign up if you want to visit us alone or in a small group of people.
For tours with individual date request and a group size of under 15 visitors we have to charge a fixed amount of € 150,- per tour.
When can I attend a collective date?
Collective dates take place every last Friday a month at 2 pm. The tour will be held from a visitor number of 8 people. You will be notified per email one week priror to the date whether or not the tour will take place.
Can we visit spontaneously?
Unfortunately we can only provide guided tours according to prior registration. However we always look forward to welcoming guests at our store during the opening hours!
Are dogs allowed?
Due to our hygiene regulations dogs are not allowed within our premises.
Are parking spaces available?
Both sites are equipped with adequate parking spaces.
We don't have a bus at our disposal, can we take part in the guided tour regardless?
Alternatively the guided tour can take place at only one site by request. With this option the guided tour takes about 1,5 hours.
Is the area wheelchair accessible?
Yes, the area for the guided tour is accessible for wheelchair users.
Can I cancel my appointment?
Cancellations up to 10 days before the appointment are free of charge. For cancellations up to 1-9 days before the appointment we charge € 50,-, for cancellations on the day of the appointment we charge € 100,-. Cancellations must be announced exclusively in writing via office@landgarten.at.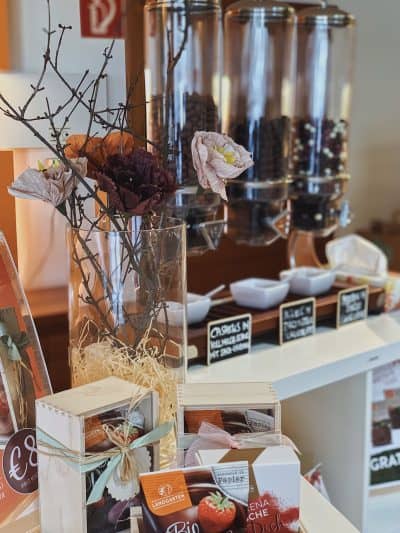 Landgarten GmbH & Co KG
Färberstraße 16 (start – chocolate manufactury)
Alte Wiener Straße 25 (childhood home of the soybean)
2460 Bruck an der Leitha
erlebnistour@landgarten.at
+43 (0)2162 – 64 504
Would you like to book your adventure tour right away or do you just want to know if your desired date is still free? You are exactly right here! Just send us your request and we will get back to you as soon as possible.